The inmate who was beaten and tasered by three Aiken County jailers last summer is the murder suspect labeled crazy for setting fire to a random home and killing a 10-year-old boy.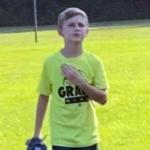 Brian Clifford Beaudin Jr., 30, is being held on murder charges for setting fire to a home in Warrenville that ultimately killed 10-year-old Kason Adams. Beaudin was described as "crazy" for the arson, one of two house fires he set on July 11.
While being detained in jail on Aug. 10, three detention officers attacked Beaudin for not complying with their orders, according to a SLED investigation. Those three officers were fired, and they surrendered Friday morning on a misdemeanor charge of misconduct in office by a public official.
SLED warrants spell out the accusations against each officer:
• Sgt. Thomas Caffrey Jr. used a "conducted electrical weapon multiple times to deliver an electric shock to Beaudin, who was not combative or resistive." Caffrey also "delivered a knee strike to Beaudin's back."
• Cpl. Rodney Robinson Jr. grabbed Beaudin, pushed him to the ground and struck him several times with closed fists and elbows to the head and shoulder.
• Deputy Hillario Fuentes-Hillario struck Beaudin several times with closed fists to the face and delivered a knee strike to him.
All three are accused of using an unreasonable amount of force and causing the inmate "unnecessary physical injury." All three were quickly released Friday morning on a personal recognizance bond, according to a jail official.
At the time of the fires, authorities say they have found no reason why Beaudin picked that house on Lamar Street where the victim was staying. The tragic part is that Kason was simply staying the night at his friend's house.
The suspect followed that fire up by setting his parents' house on fire at 2006 Sumter Street in Beech Island. He said he did it because his "parents were terrorists" and were "selling his poetry for money," a report says.