The vice president of the Glenn Hills High School athletic booster club helped herself to $800 of the organizations money when she forged a stolen check last fall, according to authorities.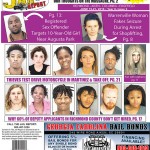 (This is one of many stories in this week's new edition of The Jail Report, hitting local gas stations right now.)
Tiffani Turner Jackson, 40, of Broad Street, Augusta, was arrested Friday night and charged with forgery 4th degree less than $1,500, theft by taking and speeding, a Richmond County Sheriff's report said.
The forgery was discovered in February as the president of the club Clarice Johnson and the principal of Glenn Hills Dr. Bobby Williams were looking through the January bank statement. They discovered that check number 1052 had been written to an Alonzo Howard. He endorsed the check and cashed it at the Wells Fargo branch on Walton Way.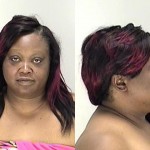 The check had the signature of Johnson, but it was forged. After filing a report, Johnson started her own investigation of the matter.
"I wanted to clear my name," she said. "I didn't want anyone thinking I had done that."
She remembered that a man had visited Jackson at least twice at the concession stand. The booster club is in charge of concessions to earn money for the different sports. She knows he was at a basketball game but he may have stopped by during football season.
"I asked (Jackson) who he was," she said, but she never got an answer.
So she went to Facebook and found that he was a friend of Jackson's.
According to Sheriff's Sgt. Monica Belser, no Alonzo Howard has a pending warrant for this case.
Johnson said the only way Jackson could have gotten the check is by stealing it from her pocketbook. She thinks the theft happened while they were both working a game.
"I am careful with the checkbook. I keep it in my purse," she said.
Fortunately for the booster club, they got the money back.
"The bank repaid the money," Johnson said.
Ironically, school officials might have been smart to do a background search on Jackson, who was arrested in 2008 on six counts of financial identity fraud. Those charges were dismissed five years later, but an explanation on the reason for dismissal was not immediate clear.