Just months after getting a short sentence for domestic violence, an Augusta man kidnapped his ex-girlfriend and beat her up before intimidating her into sex, authorities said.
Michael Lefebvre, 37, of Augusta, was charged last Wednesday with battery and kidnapping. The suspect and victim have been separated for a month because of his abuse and have children together, a sheriff's report says. He has been convicted of violent beatings on the same woman twice before and keeps getting slapped on the wrist and offered plea deals in court.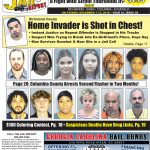 (Story continues below) For more crime news, pick up today's new issue of The Jail Report, sold in local gas stations for $1.75.
In the newest case, the 30-year-old victim told authorities that a mutual friend tricked her into getting into a van, where Lefebvre was waiting for her in the driver's seat. She said the male friend was scared of Lefebvre and went along with the scheme out of fear. Plus, the vehicle had tinted windows and she didn't see the suspect inside.
From a sheriff's report: "She attempted to get out of the van, but the door would not open. Lefebvre refused to let her out, and against her will, drove back to his residence."
Back at his house, the friend left and Lefebvre started arguing with her about ending their relationship. During the argument, Lefebvre snatched her phone from her, then threw it at her, a report says. The phone struck the victim over her left eye causing a deep laceration. He then struck her arms.
"Once the physical fight was over, Lefebvre wanted to have sex," a report says. "She did not want to, but did not want to get hurt anymore. She advised that during sex, he told her that he was marking his territory. Lefebvre left numerous bite mark and hickies on her neck and arms during intercourse."
The woman was eventually able to use her phone to contact a different friend who responded to the Tanglewood Drive home to pick her up.
"Once her ride got there, she ran out of the house," a report says. "As she was getting into the vehicle, Lefebvre stated he was 'going to kill her.'"
The arrest comes just six months after he was sentenced to just 30 days in jail for family violence battery. That stemmed from an assault on the same girlfriend on Dec. 26, 2016.
Lefebvre was reportedly furious that his girlfriend had not set an alarm for him, making him oversleep and late for work. With their 1-year-old daughter in the bed with them, Lefebvre started punching and hitting the victim in the face, stomach, legs, and throat. She told deputies she was probably hit about 30 times.
The victim said her boyfriend had been using methamphetamine and believed that he was acting violent because he hadn't had it in a few days.
That case lingered in the court system for two years before prosecutors cut him a plea deal and dropped battery and child cruelty charges in return for the family violence battery guilty plea. Judge David D. Watkins sentenced Lefebvre to 30 days in jail and 11 months of probation.
The abuser also has a conviction from 2014 for simple battery – family violence. In that case, Judge Richard Slaby gave him probation and fines without any jail time.
In the 2014 case, Lefebvre was furious over dirty dishes and grabbed his live-in girlfriend by the arms. He then grabbed her by the neck and began choking her. She ran from the home, but her boyfriend pursued her and grabbed her arm, only relenting when a neighbor yelled at him to let her go.
She told deputies that he had threatened to kill her and her family if she ever tried to leave him.