Austin Rhodes doesn't play games when it comes to threats. The conservative radio host has said that repeatedly while on the air at WGAC.
When it happened again last Monday, Rhodes called Columbia County authorities.  He said Jacob Norris has made a threat toward him on Facebook and wanted to prosecute.
Norris was apparently upset over Rhodes' commentary regarding the murder of 23-year-old Ahmad Popal outside an Augusta nightclub. Norris claimed he is the brother of Popal's girlfriend.
Rhodes told authorities that Norris sent this message online: "I hope you die. Literally you next on the list. you don't ever talk about my family like that. ahmed has reason for what he does but you wanna back a white man who just shoots some one in the head. f**k you racist piece of s**t. your a dead man."
The radio host gave authorities screenshots of the threatening messages. On Tuesday night, authorities arrested the unemployed Martinez man, charging the 21-year-old suspect with terroristic threats and acts. Norris is already free on bond.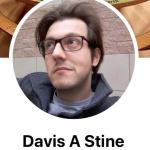 It's the second time recently that Rhodes has called the cops on someone. In the other case from June, Rhodes said he received a message on the Beasley Broadcasting media site from a suspect named Davis A. Stine.
Stine Claimed to have vandalized Rhodes' vehicle while at an unknown restaurant, a sheriff's report says. Stine also promised future vandalism and said he would recruit others in the process.
Rhodes said that authorities tracked the suspect to Colorado and talked to him about the incident. No arrest was made, and it's possible the vandalism incident never took place, Rhodes said.
Officers warned Stine about making threats and the possibility of arrest. They also told him not to contact Rhodes any further.