WEDNESDAY UPDATE FROM BCSO:
Late this afternoon Sheriff Williams, Chief Deputy Blanchard, District Attorney Natalie Paine and Investigative Sergeant George Myers met at the Burke County Sheriff's Office to review the case file and all evidence regarding Coach Travis Thomas.  As a result of this meeting after a thorough review of the evidence thus far, an additional felony warrant was issued on the following charge:  16-6-5.1 – Sexual assault by persons with supervisory or disciplinary authority.
Except as provided in paragraph (2) of this subsection, any person convicted of the offense of sexual assault of a child under the age of 16 years shall be punished by imprisonment for not less than 25 nor more than 50 years and shall, in addition, be subject to the sentencing and punishment provisions of Code Section 17-10-6.2;
Additionally, based on current evidence, including video footage provided by the Burke County School System from the school bus cameras, the Burke County Sheriff's Office and District Attorney's Office will be working with Chatham County Law Enforcement and Judicial authorities regarding alleged felony charges that occurred during a school athletic event in the Savannah area.  The Sheriff's Office is continuing to review all evidence and new information that is received and will work diligently to confirm or dispel any information provided.
The Sheriff's Office has continued to work closely with the Burke County School System regarding this case and the school system has assisted in every way possible.  Together, we are reminding students to be vigilant and always report individuals who touch you inappropriately to a trusted teacher, principal, counselor, doctor, school resource deputy, or parents.
ORIGINAL STORY:
An arrest warrant accuses a Burke Middle School basketball coach of touching the genitals of a 14-year-old boy while alone after school in a P.E. office.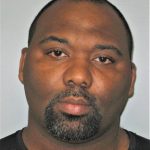 The sexual battery warrant for Travis Ronzell Thomas (mugshot at right) accuses the coach of being alone with the boy after school on Jan. 9 the P.E. Coach's office at Burke Middle School when the incident occurred. It says he touched the boy's genitals with the palm of his hand without the boy's consent.
"The alleged incident occurred after school hours during a scheduled athletic event practice," sheriff's Chief Deputy Lewis Blanchard said in a press release. "Additional alleged incidents are under investigation with potential charges forthcoming."
Thomas, of Cohen Road, Waynesboro, was arrested Monday afternoon. The suspect is reportedly a Burke County High School Teacher and middle school basketball coach.
The initial report was made directly to the BCSO without notification to the school system, a press release says.  The BCSO notified the Burke County School System and they fully cooperated with School Resource Deputies and Criminal Investigators during the investigation and provided information that assisted in securing the arrest, Blanchard said. Additionally, the school system immediately placed the teacher on administrative leave after the Sheriff's Office notification.
The school system has suspended Thomas. "They have suspended and banned him from their properties pending the final outcome," the sheriff's office said.
"The Sheriff's Office and School System work diligently to ensure the safety and welfare of all students; we work together to make sure any complaint lodged is fully and properly investigated," Blanchard said.