Aiken police say a young man has died after being shot Friday night in the Paces Run apartment complex.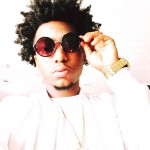 The victim, identified by several friends as Kaliel Bey (pictured), was found lying in the roadway on Brandt Court when police were called about 8 p.m. Friday. The victim had at least one gunshot wound, a press release says.
The victim was rushed to the Augusta University Medical Center, where he died sometime later.
No suspects or arrests have been announced.
"Aiken Department of Public Safety is being assisted in this investigation by the Aiken County Sheriff's Office, Second Judicial Circuit Solicitor's Office, and the ATF RAGE Task Force," a press release says.
Anyone with information related to this incident is asked to contact Crimestoppers of the Midlands at 888-CRIME-SC (888-274-6372) or the Aiken Department of Public Safety at (803) 642-7620. Callers may remain anonymous and could receive a cash reward of up to $1,000.
While the coroner had not officially released the victim's name by Sunday afternoon, Bey was named by a dozen or so friends and family on Facebook as the person who was killed. Here are some of their comments remembering him Sunday:
Marcus Cummings: "Really took my brother from me too soon 

?

 you up there rapping tupac and biggie head off 

?

 s*** will never be the same. Kale Bey. I love you man."
Adonis DonDon Bey: "Im sorry bro. I should of been wyt you. I love you."
Najeeah Brooks: "Outside on break looking up talking to my Bruh Kaliel Bey. I love u so much just know u will for ever live on in my heart."
Sara' Money Hargrow: "RIP Kaliel Bey. 

?

 i cannot believe this , you were too young and had so much ahead of you. So many memorie those CP days me, you, Rach, Donis, & Dex from the park, to walking everywhere, and Rides in Donis Cadillac. The first person I got high with lol we were trippin so hard walking to school that day 

?

 man this really hit my heart 

?

 im praying for your family."