A North Augusta rape suspect is accused of convincing a petite woman to get into his car before overpowering her and raping her, authorities said.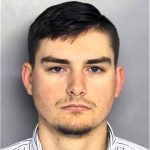 Chad Walton Kelly, 24, of Turkey Ridge Court, North Augusta, was charged Friday with criminal sexual conduct in the first-degree and kidnapping. He is shown in his Facebook photo above and his mugshot at right.
An arrest warrant says the horrific attack occurred between 4-9 a.m. Sunday around Field Cemetery Road in Graniteville where Kelly enticed her to get into his vehicle "under the pretense of taking her back to her car, then refusing to do so." He physically forced the 25-year-old woman into his vehicle and committed a sexual battery on her, a warrant says.
The woman contacted the Edgefield County Sheriff's Office after she escaped Kelly, but authorities realized the attack had actually occurred in Aiken County on Fields Cemetery Road at Bettis Academy Road in Graniteville, a report says.
An investigator located a watch and found tire tracks and shoe prints. The watch was described as "gold with a white face with no numbers and surrounded by clear stones."
The victim told authorities that Kelly slapped her, causing her to hit her head on the window. She said she became unconscious and woke up naked in the back seat but couldn't tell if she had sexual intercourse or not, a report says. A report describes her as 5'3″ inches tall and 100 pounds. The suspect is 6'2″ inches tall and 200 pounds.
The woman went to the hospital, and an investigation led to Kelly's arrest. He was booked into the Aiken County Jail on Friday morning. He has no criminal record in Aiken County. A Facebook page for Kelly says he works as a local welder.
For more crime news, pick up the latest edition of The Jail Report.