The Augusta woman who brought a shooting victim to CVS Pharmacy early Thursday was actually involved in the man's murder and even tried to clean up his residence of blood evidence, sources tell The Jail Report.
Porsche Harris, 29, was charged late Thursday with murder and armed robbery for her role in the slaying of Samuel Stewart III. The man who actually shot Stewart has not been identified, sources say.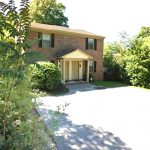 Stewart, 43, had set up a drug deal Wednesday and had cash ready at 1013 Hogan Street in Augusta (pictured), sources say. But a male suspect shot him in the shoulder and stole the victim's cash and other belongings. Then Harris came into the home.
"She went in afterward and cleaned the residence with bleach and other chemicals," the source says.
Harris then took the victim in her vehicle and headed to the hospital. She stopped at CVS Pharmacy just early Thursday and told investigators that she was just a Good Samaritan.
"She claimed that he ran and jumped in her car and asked her to call 911 for him. He advised her to pull over and wait for ambulance," the source said.
Stewart was pronounced dead at Augusta University Medical Center after he arrived there. He has a listed home town as Lithonia, Ga.
Check back here for the latest updates…
Note: If you have a photo of Samuel Stewart III to share, please text it to The Jail Report at 803-487-3224.
For more crime news, please pick up the latest edition of The Jail Report, sold in local gas stations for $1.75.