The mystery behind two decomposed bodies in Warrenville on Thursday has been revealed as a murder-overdose.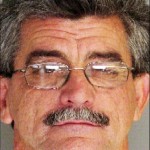 Authorities say 66-year-old William Howard Boyd (pictured) fatally shot 47-year-old Sheryl B. Stone to death, wrote a note taking responsibility and later died from an overdose at the home on 38 Jackson Street.
From a press release by Coroner Tim Carlton:
"Autopsy revealed that Ms. Stone may have been deceased a week to ten days prior to Mr. Boyd's death. A note discovered at the scene written by Boyd admitted that he took Ms. Stone's life. No significant injuries or trauma were discovered on Mr. Boyd at autopsy. Mr. Boyd's toxicology and microscopic specimens have been taken to SLED for analysis. Further updates will be made available as they come to light."
Boyd is shown above in a 2006 mugshot after his arrest for assault with intent to kill and firearm possession. Both charges were dismissed before trial for unclear reasons.
Note: If you have a photo of the victim, please text it to 803-487-3224.