A Walmart shoplifter was tasered in the back while fleeing a Richmond County deputy, and his face paid the price.
Robert Lee Lewis, 51, of Hephzibah, attempted the "Garden-Center exit" on Friday evening after loading up a $139 microwave, $60 jumper box and two bottles of anti-freeze in a cart and not paying.
Deputy Steven Bell was working special duty at the Dean's Bridge Walmart when an employee alerted him to the scam, a sheriff's report says. The deputy grabbed Lewis but the suspect tried to flee, slipping out of his jacket in the process.
"I then deployed my Taser and the probes struck Mr. Lewis in the back," Deputy Bell wrote in his report. "As Mr. Lewis was energized, his momentum caused him to call forward to the ground."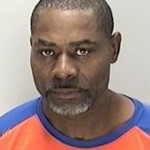 Authorities called for an ambulance, and Lewis was taken to University Hospital for treatment. The stolen items were recovered, and Lewis was eventually booked into the Richmond County Jail for shoplifting and obstruct of an officer.
Lewis is shown here (at right) from an earlier arrest in December before his face was injured. In this Dec. 5 arrest, he was charged with driving while license suspended and giving false info to police.
(Don't forget to pick up the current issue of The Jail Report, which is sold in local stores. A new issue comes out Wednesday.)