Authorities have identified the man fatally shot in Hephzibah on Friday.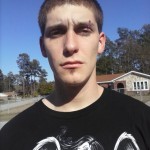 Zachary T. Nutter, 26 (pictured), was shot once in the head on the 5000 block of Fulcher Road and was rushed to GRU, where he was pronounced dead.
Sheriff's officials say the have "everyone of relevance in custody." No arrests have been announced.
Stay tuned…