A young mother from Augusta was charged Tuesday with homicide by vehicle for allegedly causing the Easter wreck that killed a local motorcyclist.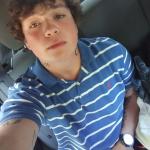 Cassandra "Cassie" Cox, 20, of Skinner Mill Road, allegedly caused the wreck on Old Louisville Road that killed 21-year-old Jack Ryle Jr. of Augusta. She was charged with homicide by vehicle, a misdemeanor, and making an improper U-turn. Cox remained in jail Wednesday morning under a $1,440 bond.
According to the coroner, Ryle was riding his motorcycle south on Old Louisville Road at 7:54 p.m. April 12 when a vehicle made a U-turn in front of him.  Ryle was not able to stop the bike and struck the side of the vehicle.
Ryle was transported to Augusta University Medical Center where he died the next morning from blunt force trauma, Coroner Mark Bowen said.
A funeral is planned for May 2. Elliot Sons Funeral Home is in charge of arrangements.
An obituary remembered the victim this way: "Jack was born at Doctor's Hospital on November 2nd, 1998. He was an astonishing football player, a leader on and off the field, he had not only a passion for football but for music as well which he wrote from life experiences. Jack had a loving, caring soul and a heart of Gold which was BIGGER than any problem and as SOLID as him. Jack was all about family and being the best Daddy he could possibly be. He never met a stranger and felt led to always help others making him everyone's BIG BRO. Jack was a High School Graduate of Hephzibah High and was working to become successful for his kids. We always said Jack loves the girls and the girls love Jack. His infectious smile, silly laugh and beautiful spirit will be missed by many. Jack will be deeply missed however shall live through us all."
For more arrest stories, pick up the latest edition of The Jail Report, sold in local stores or online at thejailreport.com.