A Columbia County woman who was reportedly attacked in 2013 for sleeping with a local teacher's husband is in trouble with the law.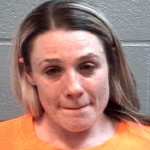 Valeska Christine Gilson, 32, was stopped for DUI at 2:18 a.m. Sunday on William Few Parkway, authorities said. Deputy Wes Ward also charged her with failure to maintain lane.
She has since been released after posting bond.
Gilson made big news in December 2013 when she was attacked by the wife of a man she was caught sleeping with, according to media reports. In that case, a Lakeside High teacher was arrested for beating Gilson in a bedroom on Summerlin Drive in Evans.
Gilson told deputies that she was sleeping with the teacher's husband at 4 in the morning when she heard the back door open. The teacher allegedly went into the bedroom and hit Gilson several times in the head and shoulder.
All charges against the teacher were eventually dismissed in the 2013 case.