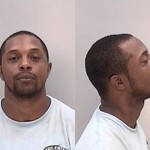 A tire shop owner was identified as the man who illegally dumped 195 tires on a lot on Lyman Street in Augusta.
The arrest of Octavius Mack marks the first felony illegal dumping case made by the Richmond County Marshal's Office in over 20 years, according to Marshal Ramone Lamkin.
The conclusion comes after several weeks of physical surveillance and intense investigation. And the arrest didn't come easily.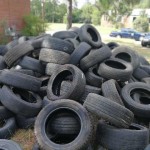 Mack was confronted about the tires Friday and was asked to produce a business license. He got agitated, refused to provide an ID and ran away from the officers. Deputy Larry Bracken fired his Taser at the suspect and struck him in the back, but it took a chase of 500 yards into a wooded area to take the man into custody. Deputy Bracken suffered minor injuries in the process.
While being interviewed, Mack said he did business for friends, including mounting tires. He confessed to disposing of the used tires once he did the work. Mack claims he took over the business of S&M Tires and was left with several hundred tires at the site.
Mack was charged with felony illegal dumping, felony obstruction of an officer and four outstanding felony warrants.
"The Richmond County Marshal's Office is also currently investigating several other illegal dumps throughout the county," a press release says. "Illegal dumping has become a large scale problem for Augusta."
If citizens see any illegal dumping occurring, they are encouraged to report it to the Marshal's Office at 706-821-2368.