The North Augusta suspect in Thursday night's dramatic gunfight on Georgia Avenue is a drug-trafficking suspect who was wanted on a bench warrant for failing to appear in court, authorities said.
Thomas Airington, 42, was photographed overnight with blood running down his face while being booked for attempted murder. He allegedly fired at officers while kneeling beside his wrecked truck, striking a North Augusta officer in the leg before surrendering, possibly because he ran out of bullets and couldn't flee in the truck.
The chaotic scene was captured on video by several witnesses and forced rush-hour traffic to be diverted around Georgia Avenue.
Airington is the same man who has been featured on the back of The Jail Report since October, wanted by Georgia-Carolina Bail Bonds on a warrant for failing to appear. He was free on $50,615 bond for a host of felony drug and weapons charges, including meth trafficking, weapons offenses and possession of Schedule I narcotics. Warrants say that he had a stolen gun and had possession of meth and marijuana at 4741 Jefferson Davis Highway in Beech Island.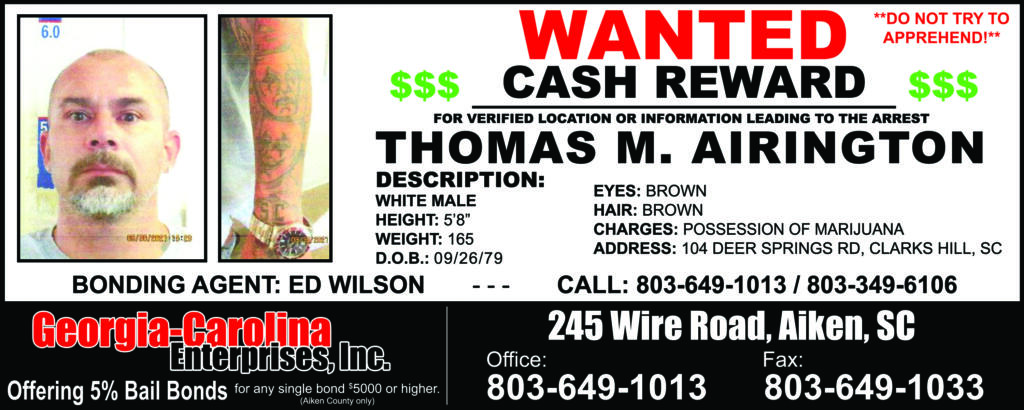 On Thursday night, officers encountered the suspect around 4:30 p.m., an incident that "led to shots being fired on the 400 block of Georgia Avenue," Lt. Tim Thornton said.
SLED became involved in the officer-involved shooting, and they are the agency that filed the attempted murder charge against Airington. The suspect has a listed address on the 100 block on Deer Springs Road in Clarks Hill.
The injured officer has not been named. "He was quickly transported to a local hospital to receive further medical attention for a non-life threatening gunshot wound to the leg," Lt. Thornton said. "NADPS appreciates the never ending prayers and support we get from citizens of North Augusta."