A murder suspect has been arrested in the Club Viral shooting in Augusta.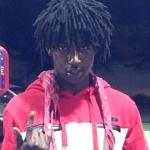 Danell Sanders, 30, has been charged with murder in the death of 20-year-old Traquan Salley. Both suspects are from Wagener, S.C., a city in Aiken County.
The sheriff's office made no connection between this shooting and the death of Deivante McFadden, the 21-year-old Hephzibah man who was found shot in the driver's seat of a black Kia Rio wrecked on the 2300 block of Winston Way at 2:48 am Sunday. McFadden was transported to the Augusta University Medical Center, where he was pronounced dead at 3:30 am Sunday.
Here is the Richmond County Sheriff's Office press release on the Salley killing:
"On 01/12/2020, Sunday, at 0151 hours, the Richmond County Sheriff's Office responded to the 200 block of Laney Walker Blvd. in reference to shots being fired and at least one person being shot. Upon arrival, deputies located one person who had been shot, Traquan Salley (20, of Wagner, SC). Salley was transported via personal vehicle to AUMC, where he was later pronounced deceased by hospital staff from complications due to being shot.
During the course of the investigation, it was later learned that another person was also shot, who was identified as being: Dameun Sanders, 27, of Wagner, SC). At this time, Danell Sanders (30, of Wagner, SC) has been arrested for his part in the shooting incident and charged with Murder, Aggravated Assault, and Possession of a Firearm during the Commission of a Crime.
Danell Sanders was also arrested and charged with Possession of MDMA under another case. This case is still under investigation and nothing further is being released at this time.
The Richmond County Sheriff's Office is actively working both cases (2300 Blk Winston Way shooting). If you have any information on either case, please contact Inv. Lucas Grant, Sgt. Chris Langford or any on-duty Violent Crimes Investigator at 706-821-1020 or 706-821-1080. Respectfully, Sgt. Caleb Lee, PIO"
For more crime news, pick up the latest edition of The Jail Report in local gas stations.