An Augusta man has been identified as the suspect in a 2011 rape and kidnapping case that occurred behind Bon Air Apartments.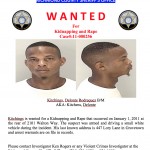 Delonte Kitchings, 26, is wanted for a kidnapping and rape that occurred on New Year's Day 2011 behind the apartments on 2101 Walton Way in Augusta.
According to authorities, a 25-year-old woman was walking at 4 in the morning on Britts Lane when a vehicle pulled up and a man ordered her into his car at gunpoint. He drove her behind Bon Air Apartments and forced her into having sex with her. He then made her put her clothes back on and released her.
At the time, authorities could not find a DNA match at the time. But Kitchings eventually got arrested in South Carolina where his DNA was taken, and it matched this case.
His last known address is 447 Lory Lane in Grovetown and arrest warrants are on file in records.
If you know his location, please contact Investigator Ken Rogers or any Violent Crimes Investigator at the Richmond County Sheriff's Office at (706) 821-1020 or 821-1080.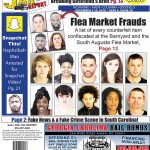 For more crime news, pick up this week's edition of The Jail Report.