What should happen to a deputy who gets arrested by his own department for DUI?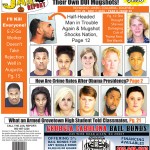 It depends on where they are working.
Richmond County authorities have kept their deputies on the force after taking disciplinary action while Columbia County officials have wasted no time in terminating a deputy's employment.
In this week's edition of The Jail Report, we take a look at the most recent arrest of a Richmond County deputy stopped for DUI. If the past is any indication, he will not lose his job.
Pick up a copy of this week's issue of The Jail Report for full details on the arrest of Justin Poston and a look back at what happened to Eugene Danner Jr. after his arrest by RCSO in 2015.
Also, we tell you results of an Edgefield County survey on the upcoming sheriff's race between Sheriff Adell Dobey and challenger Michael Raffield.
And, we've got full details on the Grovetown High School student arrested for bringing a knife on campus and telling classmates he was a gang member who had killed people.
In Aiken County, we have stories on the DUI arrest of a USC Aiken student, and a domestic violence case out of Jackson.